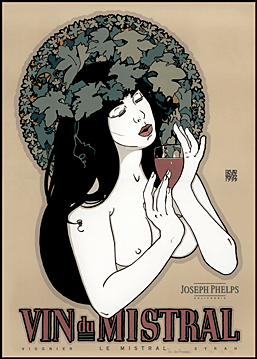 Click on image for detail
(#156) VIN du MISTRAL:
Edition of 2361 of which 100 copies are signed 1-100, 26 copies are signed A-Z as artist's proofs, three sets are signed as progressives and two are signed as dedication copies.
Every place in the world has a seasonal hot, dry wind. The wind blows and blows and doesn't let up. It stirs the passions, sometimes to the boiling point. Sleep does not come easily, memory and lust crouch on the bedpost. People forget themselves and do strange things. Sober citizens kick over the traces; faithful wives develop a roving eye; murder bubbles beneath the surface. Excesses that ordinarily would be subject to censure are overlooked: "It was the wind." Wine too can create a Mistral of the soul, a Santa Anna of the spirit. It can be a comfort, and without wine, food is suitable only for animals, fuel for the machine. But wine can sweep us along paths we hadn't suspected, push us over the edge; let us do what we wanted to do but were reluctant, inhibited, too timid. A pied-piper dancing through our dark and hidden streets and out of every secret cellar and attic come rushing rats and laughing children. Every person in the world has a seasonal hot, dry wind.