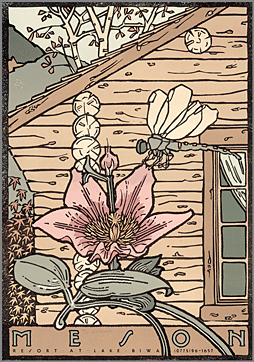 Click on image for detail
(#150) MESON:
Edition of 2762 of which 100 copies are signed 1-100, 26 copies are signed A-Z as artist's proofs, three sets are signed as progressives and one copy is signed as a dedication copy.
People whom we find exotic, tit for tat, find us equally strange and exciting. We think of ourselves as perfectly normal, not as subjects for foreign fantasy-lands, but it isn't so. Americans are Western cowboys and Indians, Chicago gangsters and gun-molls, New Orleans jazz musicians and Los Angeles movie stars. Americans typically live in log cabins and wrestle bears, apparently, in the popular mind of Japan. When I go to the zoo I am often more interested by the interest displayed by the monkeys in my behavior than in the behavior of the monkeys. Who's studying who, here? Are we on the inside looking out, or on the outside looking in? Is there a place where people dress up as Americans for Hallowe'en?