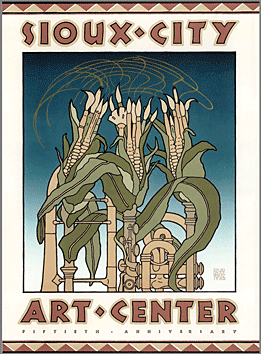 Click on image for detail
(#131) SIOUX CITY ART CENTER:
Edition of 1786 of which 300 copies are signed and numbered 1-300; 26 are signed A-Z as artist's proofs; one is signed as a dedication copy and three sets are signed as progressives.
They raise a lot of corn there in Sioux City. Iowa is a corny place, and the corn-ettes metamorphose into corn stalks, cobs become paint brushes, and the corn silk into calligraphic golden skywriting. The basic idea is lifted from René Magritte, whose painting turns everything just a little on its side. Feet become shoes, rocks become doves. Pure corn in the Empire of Light.
"Empire of Lights" is the title of a 1948 Magritte painting.