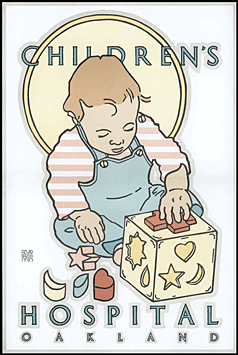 Click on image for detail
(#127) CHILDREN'S HOSPITAL, OAKLAND:
Edition of 4200 of which 300 copies are signed 1-300, 26 are signed A-Z as artist's proofs, three are signed as dedication copies and three sets are signed as progressives. 2790 copies are imprinted with the line: "Seventy Fifth Anniversary," and the balance is without it. The signed posters are from the unimprinted lot.
Sam Fuller was the model for this poster. He's been one of my regular models since he was knee-high to a grasshopper. In this poster he's trying to put together the parts to one of those children's toys that's designed to build spatial comprehension. I suppose it worked because he's fairly bright. He's modeled for three other posters, too. Once with his mom, and once with his dad, and once by himself. That's him and his mom in "Bananas."