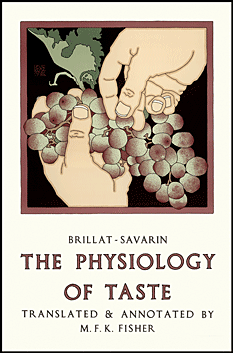 Click on image for detail
(#122) THE PHYSIOLOGY OF TASTE:
Edition of 1825 of which 300 copies are signed 1-300, 26 are signed A-Z as artist's proofs, and three sets are signed as progressives.
My friend called, said he was in a bind and could I baby-sit this evening. "Sure," I d. I know all about children. I was a child once, myself. So my sweetie and I went over and met the kids and walked up the street, me carrying the 4-1/2 (that half is important-it represents a ninth of her life and is not to be slighted)-year-old on my shoulders. The two-year-old in arms. We got pizza and played with our food and generally experimented with just how far we could push things what with our parents not home and all. Which was pretty far. After dinner we sat down to a tea party, the four of us arranged around a table lower than my knees. I perched on my tiny chair, wary that it was not designed to bear the weight of a grown man. The 4-1/2-year-old served tea and juice, carefully pouring each in turn, never spilling. Cautioning her vaguely comprehending little brother not to burn himself, "It's hot." Cookies courteously served around. We all munched and sipped, thanking each other and making small talk.
None of this was real. There was no tea, there was no juice, there were no cookies. All was imaginary. That's how little girls' tea parties are. Imaginary food and drink served with the utmost ceremony. A bright light fell on why women love restaurants that serve tiny elegant portions which they mess around on their plates and don't even eat, though ounce for ounce the edible sculpture costs more than pure silver. The price is in inverse proportion to the quantity of food served. The formality, too, is in inverse proportion to the quantity of food served.
There's eating, which is one thing. Then there's the tea party, which is a ceremony not to be marred by coarse animal demands. There's "Man Food," which is messy and grossly plentiful and is, ideally, eaten with the bare hands. Then there's "Girl Food," or "Toy Food," which is presented by a cloud of waiters on antique china with delicate wines in precious engraved crystal and not enough of it for a bird. You can't actually serve nothing, not at those prices, but you can come close. Very, very close.