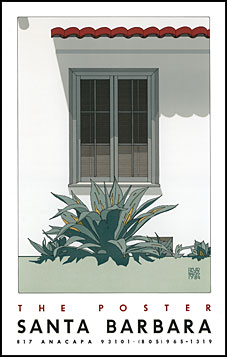 Click on image for detail
(#114) THE POSTER SANTA BARBARA:
Edition of 1903 of which 300 are signed 1-300, 26 are signed A-Z as artist's proofs, and three sets are signed as progressives. 687 copies have a black line delineating the white area above the red tiles. The balance of the edition does not have this line.
California is a desert made fertile with other people's water. Driving down Interstate 5 you see on one side of a fence the most astonishing lush vegetation and on the other side scrub and sand, blank empty nothing all the way to the frying-pan-flat horizon. The only difference is water. Water: clear, cool, vital. The Earth is two-thirds covered with water. From space you look down at a blue water world, marbled with clouds. Your brain is 90% water. Without water, you'll live about three days. We're living on borrowed time.