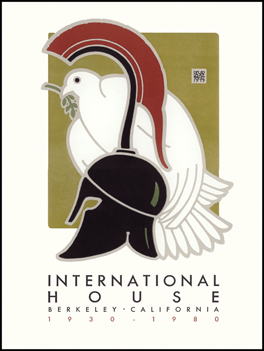 Click on image for detail
(#84) INTERNATIONAL HOUSE:
Edition of 3327 of which 300 copies are signed 1-300, 26 copies are signed A-Z as artist's proofs, and five sets are signed as progressives.
Students of other races and nations had a hard time finding housing in Berkeley, and at one time some ten percent of all foreign students in the United States were bedded down in the International House. As racial and ethnic prejudice lightened up (as it were) a bit, the emphasis of I-House shifted. It's a lovely building. Probably could use some earthquake work, placed right smack on the Hayward fault as it is. Kind of a metaphor for the uncertainty of the world in general, I can't help but think.