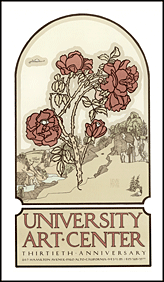 Click on image for detail
(#72) UNIVERSITY ART CENTER:
Edition of 4720 copies of which 300 copies are signed 1-300, 26 copies are signed A-Z as artist's proofs, and five sets are signed as progressives.
Shortly after moving into my house, I tore out a leggy old World War Two hedge, and planted trees and flowers, herbs and roses. Shiplap replaced by brown shingle, peeling paint renewed, a small, private backyard created by a high fence. I planted a climbing rose on the sunside. It quickly entwined itself with a spared remnant of the hedge, and for a decade-and-a-half, grew through and around its branches. In spring and summer, the tree-like bush, perhaps twelve feet tall at the tallest, seemed to be a rose tree.
The flowers were white and pink, and adorned the tree in profusion. I took care of it, gave it rose food occasionally, and made sure that the rabbits did not gnaw at its roots. The main stem, rising out of the ground, grew to be as thick around as a man's wrist. One spring, a second shoot arose near the primary, and rapidly grew up along side, twining in turn among the leaves and branches. It too became robust, so that two heavy, thorny stems rose together toward the blue sky. In its fifteenth springtime, the roses were extraordinarily abundant, made musical by the busy songs of bees.
Throughout the summer, the roses continued blooming, but as fall approached, the leaves turned brown and brittle, and I realized that the climbing rose was dead. I don't know what killed it, or why it died. It gave no warning or signs of distress. The woody, thorny skeleton is still inextricably interwoven with the still-green, leggy old hedge-bush. I suppose that the hedge will provide a scaffold for the rose until one day it, too, fails and sustains its vegetable death. Then someone-perhaps even I-will tear it out and plant a new green life in its place.