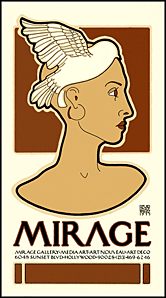 Click on image for detail
(#64) MIRAGE:
Edition of 2104 of which 300 copies are signed 1-300, 26 are signed A-Z as artist's proofs, and five sets are signed as progressives.
Next to me at the gym, a young woman was doing hyperextensions. This is an exercise where you lean your upper body forward over a support under your hips, with your ankles hooked under another support, arms folded under your solar plexus, and go up and down, bowing your back on the upswing. You look like a drinky bird. It's an exercise for the spinal erectors. Helps the hamstrings, too.
But what happens when a woman wearing the usual gym outfit leans over that way, is that it shows off a lot of bosom. Tearing my eyes from the gentle catenary, I recognized her face. She was with the Models' Guild. Even for them, she was one of the more spectacularly tricked out: extraterrestrial hairdo, the obligatory baker's dozen earrings, rivet through the nose, pierced navel and eyebrow. But she went one further with baby-smooth pierced labia (three rings), pierced nipples, rings on every finger plus thumbs and big toes, and a heavy primitive tattoo up her spine that looked something like bones, but not quite. Dried blood lipstick.
I often work from live models, and I'd drawn her dozens of times, naked as a jaybird. Just work on both sides. Striving to translate her impersonal jingling kinetic sculpture into a convincing two dimensions. About the only thoughts I had of her were to wonder just how she got through the airport metal detector. Out of context and fully clothed, she seemed deeply erotic. Less is more, I guess.*
* "Less is more," Robert Browning (1812-1889), Andrea del Sarto (1855)