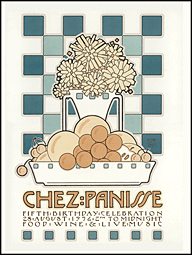 Click on image for detail
#(60) CHEZ PANISSE 5th BIRTHDAY:
Edition of 2113 of which 200 copies are signed 1-200, 26 copies are signed A-Z as artist's proofs, and four sets are signed as progressives.
Art responds to the environment, and in turn creates it. People who live in different places have different aesthetics, and one of the reasons is the light that surrounds them. My taste in color was formed by velvet brown hills dotted with dull green live oak, soft blue skies, and frequent fog and overcast. Northern California shadows are in muted shades, sunset comes early, and twilight dawdles imperceptibly into night. Winter light is shades of grey; no bright sun-glittering snow, no deep midnight-blue zenith. The light is gentle, and my eyes dilate to drink it in. I do not care for bright colors. Southern California's harsh desert light makes whites whiter and shadows blacker. The eye stops down to a pinpoint. Only the most strident colors register; bleached retinas have no patience with pearly pastels. If I lived in Los Angeles, I would be a different man altogether.