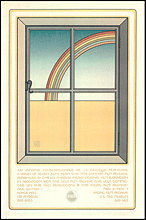 Click on image for detail
#(51) FILMEX:
Edition with text, 1010 of which 100 copies are signed 1-100, 26 are signed A-Z as artist's proofs, and four sets are signed as progressives.
September 8, 1975 15 colors 18" x 24"
A-Z: Artist's own use
What do you see when you look out your window? Do you see what's on the other side, or do you see an image of reality projected on, or re-created within, the glass itself? Renaissance painters initially conceived of a painting as a window. Is a window a picture frame placed around part of the world? Any painting is a snap-shot of a fragment of a universe. Through it, you can see a snippet of the strange and alien world that exists within another person's mind. One thing I've noticed: a really nice frame makes anything look good.