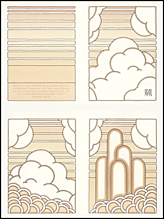 Click on image for detail
#(48) HOFFMAN BIRTH ANNOUNCEMENT:
Edition of 266 of which 100 copies are signed 1-100, 26 copies are signed A-Z as artist's proofs, and three sets are signed as progressives.
And they lived happily ever after." Possibly, though this would be exceptional. What actually happened is that they lived happily some of the time, and made each other happy some of the time, and as a result another life came into the world to face the joys and terrors that we all face. Then the child had a child and then that child had a child. Shadowed mirrors of loved ones, strangely familiar eyes peering out of the infinitely shuffled and reshuffled deck of children. Our trembling hope for a sort of immortality, our whole-hearted sacrifice to the unknown gods of an unimaginable future. What will the future bring? I don't know and I won't be around to help you, but your job is to deal with it as well as you can. Best of luck, kid.